Specs
Over 300 samples of hybrid digital/analog drums, effects, and textures in 24-bit 48kHz Wavs
Kontakt instrument (full retail version 4.2 or later) with custom scripting and GUI
Uncompressed disk space needed: 150 MB
11 Included Kontakt patches for convenient ready-to-use drum layouts
Custom Interface includes:
Low Pass Filter with resonance and cutoff controls
Variable BitCrusher with bitrate and sample rate controls
Reverb with room size and level controls
Sculpted with digital noise generators and oscillators
Samples printed through 1/4 inch Studer analog tape recorded at various levels of saturation
Plug-n-Play samples are ready to drop into your sampler/drum machine of choice
Since the dawn of the digital age there has been a war brewing.
Analog or Digital?
Now you can have both

Drum sounds that combine the best of Analog and Digital.
All of the many diverse sounds included in DigiTape Hybrid Drums were sculpted from digital oscillators and noise generators, and then creatively processed in many different ways.
Once the sonic transformation was nearly complete, all of the samples were printed through a Studer analog tape recorder at variable levels of saturation to achieve an optimal level of harmonic distortion.
The end result is an uncommon library of Kicks, Snares, Percussion and other textures that combine the sonic flexibility of Digital Synthesis and DSP with the old-fashioned warmth of analog tape.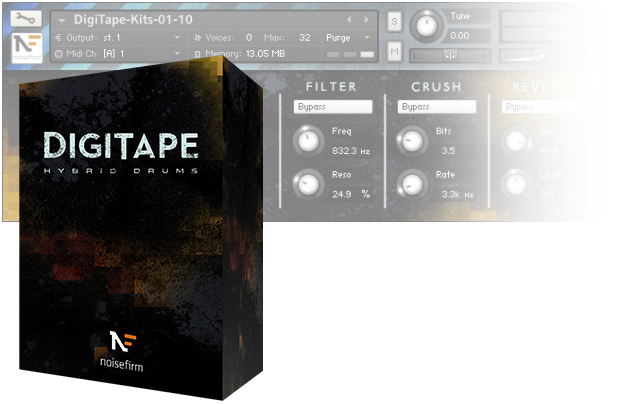 Click to purchase your copy of Digitape Hybrid Drums.
Available as a digital download in our store.