Sample Content
Kontakt:
(Kontakt 4 and later – not compatible with Kontakt Player)
95 total velocity layers per articulation
5 round robin groups * 19 v. layers each
33 instruments/articulations
3135 Samples
Custom scripting for enhanced performance and flexibility.
EXS:
95 velocity layers
33 instruments/articulations
3135 samples.
Each format includes 8 sampler instrument files: ALL, Shakers, Tambourines, Exotic, ALL lite**, Shakers lite, Tambourines lite, Exotic lite **lite version consume roughly 10% the memory of the full versions 3 "One shot" samples per instrument/articulation are also included for quick and easy use in your DAW/Sampler
Loop Content
1518 total loops
33 instruments/articulations
46 unique rhythms per instrument
Rhythms for both 4/4 and 6/8 (3/4) time signatures
Loops available in both "Left Hand" and "Right Hand" patterns for a nearly infinite number of natural loop combinations
Created using OmniGrüv technology for use at a massive range of tempos with no artificial time-stretching or audio degradation
Specs
33 different percussive textures
3 Egg Shakers – wood, plastic, and rawhide
5 Studio Shakers – various materials and sizes
3 Maracas – wood, plastic, and rawhide
5 Tambourines – various materials and sizes
2 Tamshakers – High and Low
4 Caxixis – various sizes and articulations
4 Ethnic Shakers – Gourd, Tsink-Tsink, Seed Rattle, Cabasa
3 Household Shakers – Nuts, Vitamins, Pillbox
4 Miscellaneous – Spark Shaker Hi/Lo, Orange, Plum
""The flexibility is unbeatable, and the sonic quality is top notch. Super easy to use! I don't know how I lived without Complete Shaker & Tambourine!""
Robert Marvin
Producer/Songwriter - Kelly Clarkson, Mat Kearney, Adam Lambert
""Really high quality stuff! I expect Complete Shaker & Tambourine to find its way into every song I work on.""
Reid Shippen
Engineer - NeedToBreathe, Shania Twian, Backstreet Boys
""Noisefirm Complete Shaker and Tambourine has become a staple in my set up. The library has that rare blend of musicality, usability and excellent sonics that makes it a pleasure to use!"
Edward Shearmur
Score Composer - Kpax, Cruel Intentions
There is nothing quite as ubiquitous in popular music as the shaker and the tambourine.
From the Beatles to Britney Spears, multitudes of artists across generations have utilized these instruments for their ability to establish a groove, lift a chorus, or provide a needed rhythmic element to a song.  Despite the apparent necessity of these musical building blocks, many music creators have a difficult time finding consistent, high-quality, and usable shaker and tambourine material for use in their work. Noisefirm Complete Shaker & Tambourine is an unabridged collection of shakers, maracas, tambourines, and other ethnic and unique groove-building instruments.  Recorded using the highest quality microphones, preamps, and converters, Noisefirm CS&T features a vast array of different percussive textures in uncompromising sonic quality.  Every instrument is featured in several intensively sampled Kontakt and EXS instruments as well as a multitude of über-usable and meticulously organized loop-suites.
No More Shaker_09!!!
In researching Complete Shaker & Tambourine, we surveyed many of today's most successful producers, composers, and artists to ask them about how they currently used shakers and tambourines in their creative process.  What we discovered was startling.  Although most of the music professionals we interviewed possessed multiple hard drives with gigabytes upon gigabytes of samples, nearly all of them resorted to using the same shaker sample for every song…  Shaker_09.  When we asked them why they would resort to using the same rhythm and sound on all of their projects, they simply replied that their other shaker and tambourine sounds were either stylistically unusable, poorly recorded, or just not well-organized.  With NoiseFirm Complete Shaker & Tambourine, music creators will have access to an abundance of pristinely recorded and scrupulously organized shaker and tambourine material, and we will never have to listen to Shaker_09 again.
OmniGrüv
NoiseFirm Complete Shaker & Tambourine was created using OmniGrüv technology.  Through an intensive editing process, we insure that all of the loops in this library can be used at a nearly limitless range of tempos without any artificial time-stretching or audio degradation.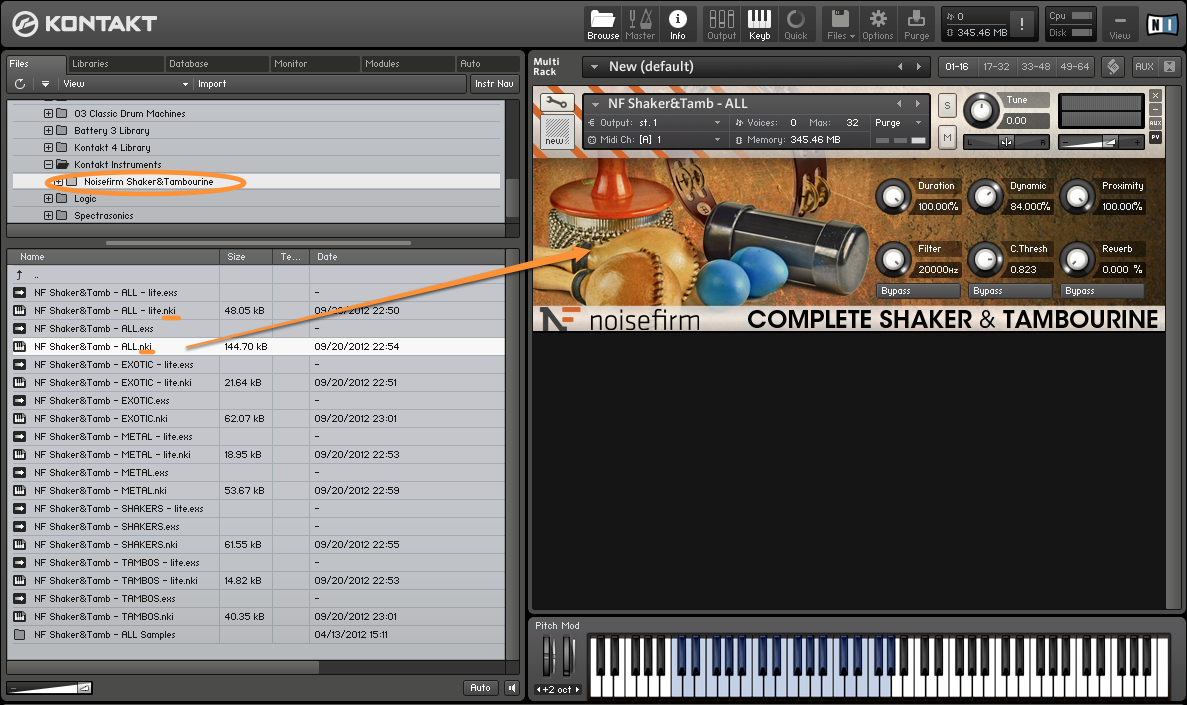 Left and Right Hand Patterns
One of the other problems with many shaker and tambourine loops currently available is their use of completely unnatural rhythms.  Physically impossible-to-play rhythms nearly always have the effect of distracting the listener, while making the synthetic nature of the shaker instrument plainly obvious.  In researching CS&T, we interviewed many professional percussionists, and asked them how they would achieve these syncopated rhythms organically in a live performance.  Through the use of "right hand" and "left hand" patterns, percussionists are able to create rhythms too complex to perform with one hand.  The right hand will generally pulse a steady subdivision while the left hand plays complimentary accents.  These two rhythms combine to create a cohesive syncopated rhythm that adds interest and dynamics to any groove. With this in mind, all NoiseFirm Complete Shaker & Tambourine loops are designated as either "right hand" or "left hand" loops.  Not only does this mean that all of the loop material sounds completely natural on its own, but more importantly, all of the "left hand" and "right hand" patterns can be mixed and matched for a nearly infinite variety of groove-enhancing rhythms.
Click to purchase your copy of Complete Shaker & Tambourine
Available as a digital download in our store.